"I Honestly Feel Like My Hair Is Growing Thicker And Healthier!"
✅ Carefully designed to help reduce scalp tension and massage the scalp.
✅ Perfect for people with thin hair or hair loss who want to support improved hair health.
Blood Flow Is The Key To Hair Growth:
Just like any other part of the body, hair follicles require sufficient blood flow to grow healthy, strong hair.
Scalp massages can improve blood flow.
Recent scientific research strongly indicates that scalp massages support healthy hair growth. Although Scalp massages are effective, they're very hard to maintain...
"If scalp massages work, then why do I need this device?"
You technically don't. You can start massaging your scalp now and get the same benefits... But in order for these massages to be effective, they need to be done every day (10-30 minutes) for many months.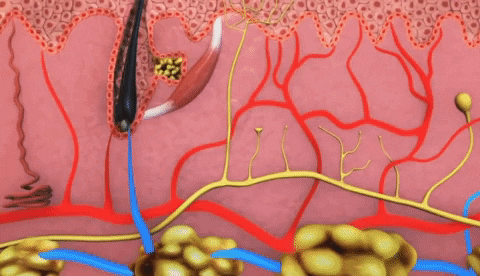 Most people report difficulty maintaining a consistent massage routine due to sore hands, so we developed Our MD Scalp Messager - which provides an easier path to results
Using our device makes it much easier to maintain the scalp massage habit for long enough to get results.
You can sit back and relax while calmly guiding the device around your scalp as it stretches, presses, and kneads the entire area.
Whether you're experiencing hair loss from genes, lifestyle, or stress, this massager will improve the blood flow to your scalp and the quality of your hair.
Whether you're experiencing hair loss from genes, lifestyle, or stress, the massager will increase the blood flow to your scalp - increasing the hair follicles to grow healthy, and stronger hair.
Benefits of Our MD Scalp Massager:

You'll see noticeable improvements in your hair within just 3-6 months. (Stronger, healthier, thicker, and faster growth).
After 6-12 months you'll see genuine hair growth like never before.
With just 10 minutes per day, you'll feel that your hair is thicker and healthier.
Reduces scalp tension & increases blood flow to promote hair growth
How To Use The Scalp Massager:
Step 1: Take the massager out of its charging deck and turn it on:
Press once to turn on, press twice to increase speed, press three times to reverse direction, press four times to increase the speed of reverse direction.
Step 2: Guide the massager around your entire scalp:
Work the device around the entire area - including the crown, hairline, scalp perimeter (sides), and neck.
Step 3: Keep it up for at least 10 minutes:
Slowly move the massager around your scalp for at least 10 minutes. Many people report even more benefits from doing 15-20 minute sessions.
Step 4: Enjoy and make sure to be consistent!
Put on your favorite show and make this a consistent habit. Real results come from daily use over periods of 6+ months.