Is your grey hair starting to uncontrollably grow? Are you having hassle re-coloring your hair dark? Well, no need to worry anymore as we introduce you the PURC Organic Darkening Shampoo Bar.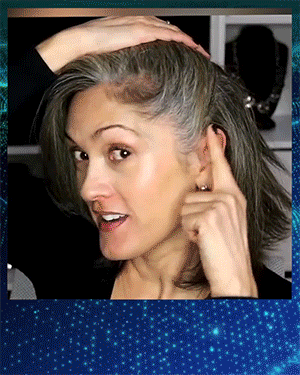 Our handmade Shampoo Bar is specifically formulated to bring your hair's natural color back, leaving it shiny and vivid. It is composed of all-natural ingredients making it super safe, chemical-free, and non-toxic. It provides all-around hair care as it keeps the scalp healthy, eliminating oily hair filled with dandruff, and instead keeps your hair's natural moist and shine.
Furthermore, it effectively
prevents hair loss
 by promoting blood circulation of the scalp,
stimulating the growth
of hair follicles and binding the hair roots onto the scalp, and
moisturizes and repairs hair damage.
Rapid growth of gray hair can be caused by aging, stress, heredity, etc.
 This 
Shampoo Bar
 targets and resolves the problem from the root by
 providing massive keratin to nourish damaged hair follicles, helping to get rid of annoying gray hair caused by any reasons.
FEATURES & BENEFITS: 
✔️ Restores Natural Hair Color:

 

Apply as your everyday normal shampoo bar and see the transformation of your gray or white hair to a young and vivid dark color again.
✔️ Promotes Hair Growth & Prevent Loss: 

 

Effectively prevents hair loss by promoting blood circulation of the scalp, stimulating the growth of hair follicles and binding the hair roots onto the scalp within 2 weeks while it moisturizes and repairs hair damage.
✔️ Anti-Dandruff, Improve Scalp Itching Problem:

 

Moisturize and repair damaged hair as it contains precious herbs like fallopian multiflora to reactivate hair pigment cells. Ginger with natural anti-inflammatory and antiseptic properties which keeps the scalp healthy.
✔️ Fast & Effective:

 

The main ingredient Polygonum has the ability to reactivate Melanocytes pigment-producing cells in hair follicles, which promotes blood circulation of the scalps, which stimulates hair growth, resulting in improved hair growth in just 1-3 weeks. 
✔️ Multifunctional Use: Suitable for both men & women. Works on all hair types and lengths. Also works on beard. 
✔️ 100% Organic & Handmade: Pure natural plant ingredients and other minerals are utilized without harmful chemicals for safe skin use. Use it with confidence, even on sensitive skin! 
 TO USE:
SPECIFICATIONS: 
Main Ingredients: Polygonum Multiflorum, Panax Ginseng, Glycerinum Butyrospermum Parkii, Ginger, Mint, Water

Weight:

 

60g
★ 100% ORGANIC – FD&C Act Approved ★
Unlike ordinary hair shampoo that is full of harmful chemicals, our darkening shampoo is made of all-natural herbal ingredients. Non-toxic and chemical-free, while protecting your hair follicles and scalp from irritation or allergy.